Hi!
I have no idea how many female (or male) readers I have to this blog. I wanted to do something a little different today. Part of my ongoing testimony is the work that FATHER has been doing in my heart concerning modesty. Modesty of the heart, but also that outward working of modesty in how I present myself through speech and dress.
Our society is inundated with images of the 'perfect woman': sultry, lean, glowing, young...And yet FATHER has a lot to say about what kind of woman HE finds attractive.
This post is meant to be encouraging. I realize we are all at different stages in our walk with the LORD. I only recently started wearing a head covering out in public (and sometimes continue to wear one at home all day). Over the years I've also adopted to wearing long skirts and carefully considering what I wear and why I am wearing it. It's been a 'process', one I wish I had mastered while my daughters were young.
I like this account from Genesis 24
63 And Isaac went out to meditate in the field at the eventide: and he lifted up his eyes, and saw, and, behold, the camels were coming.
64 And Rebekah lifted up her eyes, and when she saw Isaac, she lighted off the camel.
65 For she had said unto the servant, What man is this that walketh in the field to meet us? And the servant had said, It is my master: therefore she took a vail, and covered herself.
These two had never "seen" each other! And yet there was something, an excitement of what the LORD had orchestrated.
1 Timothy 2:9
In like manner also, that women adorn themselves in modest apparel, with shamefacedness and sobriety; not with broided hair, or gold, or pearls, or costly array;
Shamefacedness-showing modesty or bashful. I 'think' this means that a woman understands her 'power' in her sexuality and yet remains reserved so as to not lead anyone on!
Likewise the Proverbs 31 woman is clothed with strength and dignity. In contrast we have Proverbs 7:10 saying this:
And, behold, there met him a woman
with
the attire of an harlot, and subtil of heart.
Ladies, I think we need to ask ourselves some questions:
What kind of attention am I looking for?
Why do I need affirmation from other people?
What is lacking in my spiritual walk with JESUS, that I need/desire attention from other people?
Do I feel like I am competing with the world and why?
When I don't wear makeup am I thankful for how GOD made me?
What is the obsession with being 'pretty enough'?
Does GOD care about how I look?
Years ago I taught a little Bible study for ladies on modesty and one of the things we talked about was.........underwear! Don't laugh, because those panties do have power! One young single lady who was struggling with her walk actually confessed that if she wore "granny panties", she was less likely to exert any sexual power on the men that she came in contact with! Who would've thought! Yet, sometimes we don't realize what power these garments give us to make us feel empowered.
1 Corinthians 11:10
For this cause ought the woman to have power on
her
head because of the angels.
Jesus told his disciples they would 'receive power from on high'. Are we empowered by GOD when we do the right thing?
If love is patient and kind, than shouldn't the woman of GOD be kind to their brothers in the LORD by dressing in such a way that doesn't add to the numerous distractions they face daily? If we really love these guys, we want them to love us for 'who' we are, not what they can perceive of our bodies. We are to live with each other in understanding! The Word says, 'make the most of every opportunity for the days are EVIL'. We know men were created visual. You can't be angry at a guy or tell him to 'get over it' when they simply cannot. Now this is not to say that men are weaklings. There are men who have mastered their flesh, but we all live in this world and it's hard to live in! We 'do unto others as we would have them do to us'.
Below are some examples of modest dressing. I realize it is really hard to figure out what to wear. And some situations call for pants. It's not about being legalistic, its about being spiritual, 'finding out what pleases the LORD' and being ready to lay down those things we hold dear (that could be very bad actually).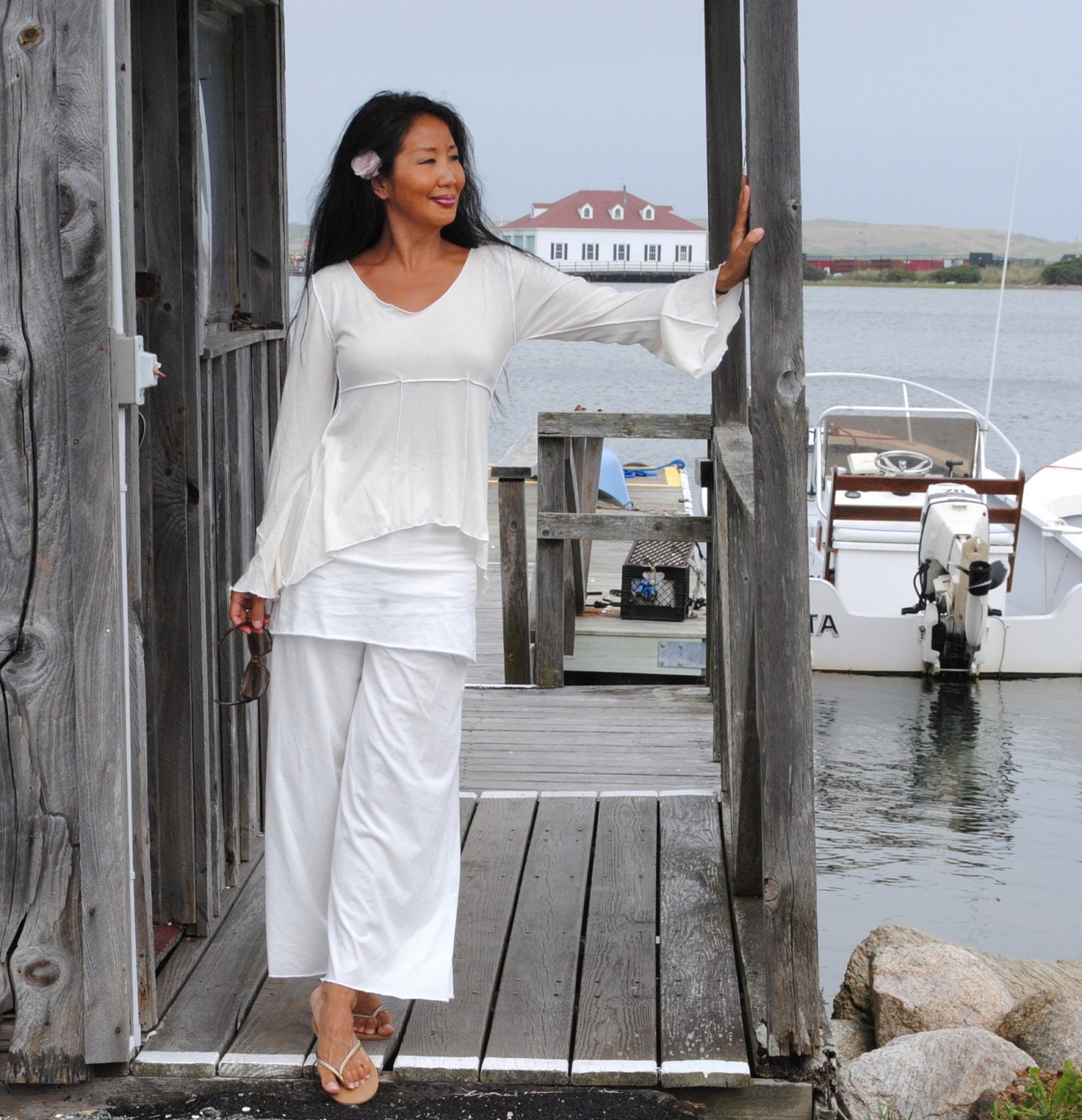 This is a cute summer outfit. Our attention is drawn upwards to the woman's face (not her crotch!).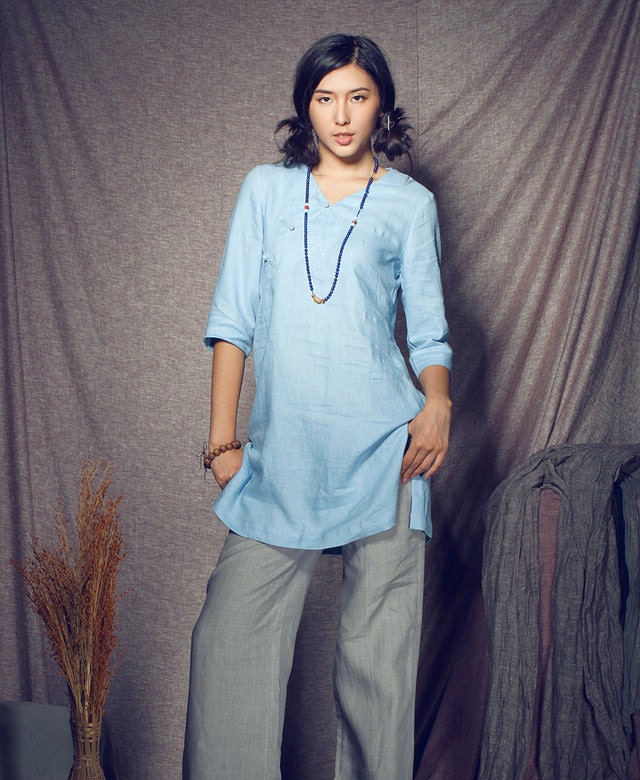 A linen tunic with tailored pant. Again, a slim line is created, the colors are attractive and again, the eyes are drawn upwards.
I think this is a really cute, young look (probably not appropriate for my age, but 20 somethings....) She looks elegant, fun, young and very modest. It's not about 'not being pretty to behold', but where exactly do you want a mans attention?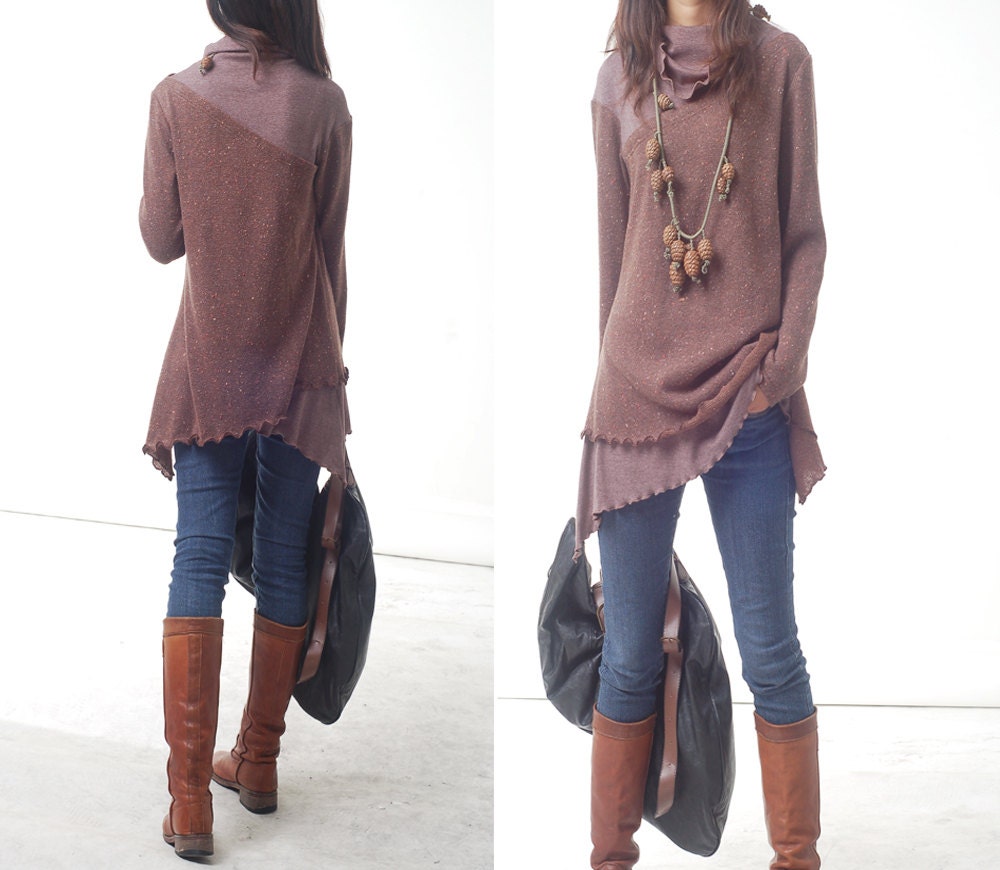 Tunics are a great way to go modest. They cover the front and backside, keeping eyes from 'wondering'. It's young, hip and funky not frumpy.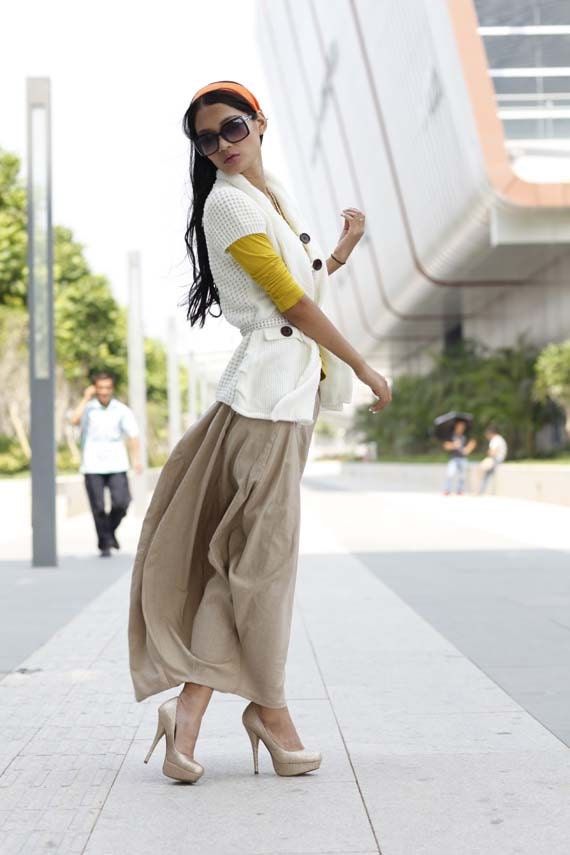 Beautiful? Yes? No? (I say YES!)
Interesting contrast. Where can Christian woman draw some kind of balance?
Alex and Brett Harris were two homeschooled guys, now graduated and have started a blog/forum/videos called The Rebelution. I encourage everyone to check out their site: http://www.therebelution.com/blog/2007/02/the-responsibility-of-modesty-part-one/
Taken from a mans point of view, young women (and older) will get a perspective on what is going on. Ladies this issue of dressing and behaving modestly is serious to the Bride of Christ!!
These websites have head coverings of all sorts. http://www.headcovers.com/
http://www.etsy.com/shop/GarlandsOfGrace?page=1
http://www.joycelongcoverings.com/
http://www.covered4him.com/Custom-Headcoverings-for-Sale.php