Let me make absolutely clear, the writing herein is 'speculation,'
NOT
'prophetic, thus sayeth the LORD' material. Thank you for your understanding and GOD bless!! (-:
And there shall be signs in the sun, and in the moon, and in the stars; and upon the earth distress of nations, with perplexity; the sea and the waves roaring;
Men's hearts failing them for fear, and for looking after those things which are coming on the earth: for the powers of heaven shall be shaken.
Luke 21:25, 26
I was just in the middle of reading James Lloyds book
The Triuniverse Book 2
when I got an email from my friend in Italy saying a large meteor had fallen over Russia.
Some say the King of the North is satan/the antichrist and that he will come out of Russia....
The LORD tells us a house divided cannot stand. When we look at the history of the Roman Catholic Church, we find that the Orthodox Church (or faction) split from them in 1054 and some time later from there we had the Protestant movement. These three represent the tripartate Whore of Babylon entity that many know as the 'Church'. However, the concept of 'church' is never mentioned in the Scriptures. "Where two or more are gathered (assembled) in My name, I am there with them." Remember satan infiltrated and tried to set up his own 'government' and we see this repeatedly throughout history. However we are told in the Scriptures, that "The government will be upon HIS shoulder and HE shall be called wonderful counselor, Prince of Peace." (That is JESUS) And this is our cry, "Come quickly Lord Jesus!"
When we read Daniel 11 we see a set up for the King of the North.
Now I am no Biblical scholar, but something is just seemingly making sense here. These are "
my thoughts
" on what has been occuring the last several days. I write them for you to think/pray about and even comment. Please correct if you believe I am off too. This writing is more along the lines of speculation, rather than revelation.
February 3 Super Bowl Beyonce used some kind of screen or mirror so that we could see duplicates of her 'dance'. Mirrors are used in divination.
At one point in the show, she appears as Shiva, 'the destroyer' or 'the transformer' which is the Hindu trinity.
shiva
shiva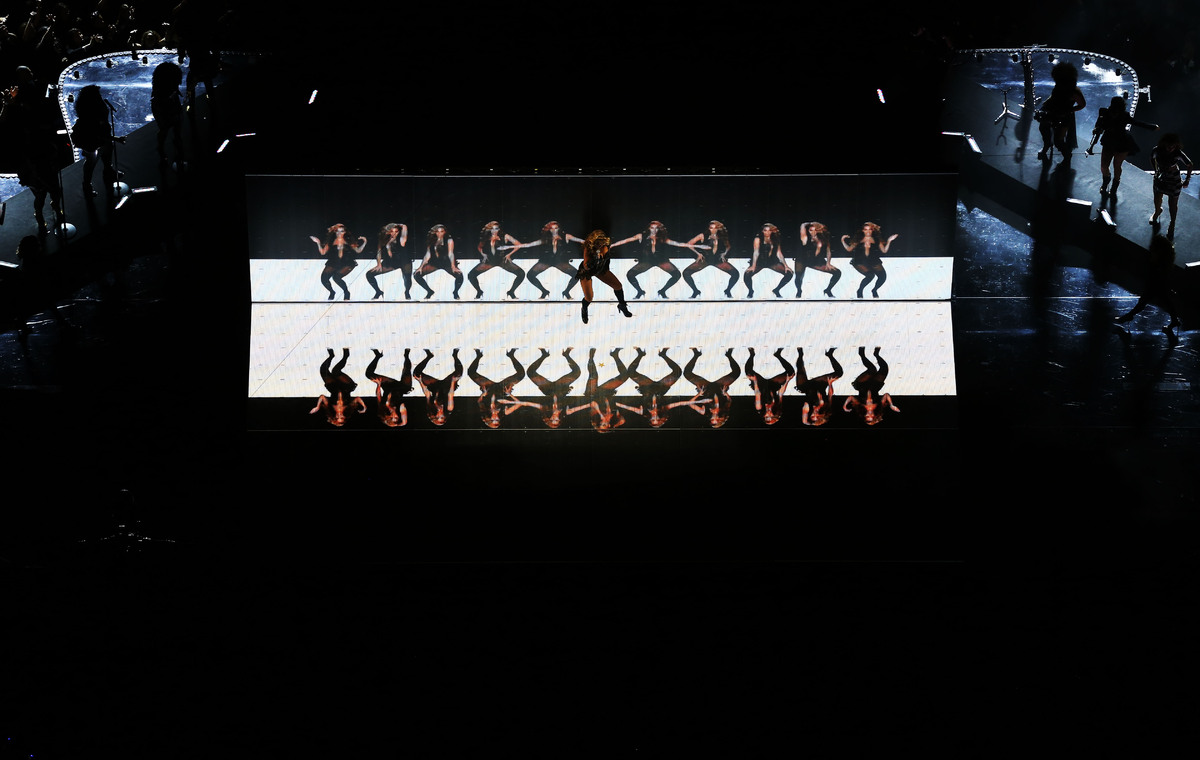 mirror image
She also appeared with her old group Destiny's Child as triune figure. There is a lot in just those two sentences! "Destiny's Child" ; whereas the Magi were looking for one 'born of the king of the Jews', in these last days, 'there are those looking for one 'born the king of this world'.
The half time show was very sexual. Nuff said, but one picture I would like to point out (a screen shot from her performance), during the last song, Halo, she kneels down near her audience and whips her hair over them. I interpret this as some kind of (pagan) blessing. It is a sharp warning for we believing women to really pray about our hair and covering it! She allowed them to touch 'her glory'.
(If you are using Chrome, you can slide your mouse over the image and it will blow up.)
February 5 Twenty five months ago I had a dream that something big was coming. In my dream I hear, 'You have 20 minutes to evacuate." Then later, "You have 5 minutes to evacuate". The dream occured on January 5, 2011. I am confident the numbers meant months: 25 minutes/25 months. That brings us to February 5. In conception there is a 3 day/72 hour window. February 3-5.
February 11 Monday or Moonday Pope announces his 'resignation'. Could read: "Pope has fallen from grace." 11 being the number of 'disorder'.
February 15 Large meteor falls from sky over Russia, where 'possibly' the King of the North comes from.
15 is three 5s. Five is the number of grace. (Another, 'fallen from grace')
March 15 Will be when the Vatican will began to meet to decide on a new pope. This is also the Ides of March when according to the late Pastor David Meyers, 'many wars and such are planned'. March is named after Mars, the god of war.
March 15 Will be one month from today.
When I started thinking of things in terms of conception and pregnancy (see: http://www.sharetestimonies.blogspot.com/2013/02/braxton-hicks-vs-real-labor.html) and noting the cycles and repetitions of events in history and such, I started to wonder if this last super bowl was a sign that this spiritual conception was the real deal.
In pregnancy there are exactly 280 days of gestation. Of course this will always be plus or minus days or weeks depending on a lot of factors. None the less, my calculations bring us to November 11, 2013 as a due date for whatever this big event is. Now keep in mind, I dont know if this big event is America being judged, a new and last pope reigning, some cataclysmic even or the appearing of the anti-christ.
We are told to
watch and pray
.
Looking at the zodiac we see that from Jan 21 to Feb 19th that is the sign of Aquarius or water bearer.
From Oct 24 to Nov 22 is the sign of Scorpio. The description of Scorpio, the Scorpion is: determined and forceful, powerful and magnetic, jealous and resentful, secretive and obstinate.
This is but a small description from astrology-online:
""Being so gifted, they can find fulfillment in many employments. Their inner intensity can result in the cold self-control and detachment of the surgeon, the concentration of the research scientist and the heroism of the soldier. ....They may be most persuasive orators and find fulfillment as diplomats or preachers and, if they make the Church their profession, their inner intensity can express itself in the spiritual fervor of the mystic or the thaumaturgy."
Thaumaturgy is from the Greek meaning miracle or marvel.
Revelation 9:5

And to them it was given that they should not
kill them, but that they should be tormented five months:
and their torment
was
as the torment of a scorpion, when he
striketh a man.
It's interesting to note the wording in this verse. "And to them it was given that they should not kill them, but that they should be tormented five months.
To be continued......